Do you know that the attention span of an average user has been reduced from 12 seconds to 8 seconds because of the abundance of information presented to us? There are so many options available in the market that a powerful headline is key to success today in the digital landscape. You know what they say. The first impression is the last impression, right?
An impressive headline will not only make your brand stand out but also act as a call to action button and boost your conversion rates massively. After all, research indicates that 80% of the people read the headlines, and only 20% of them actually read the content. If you wish to maintain impressive brand identity and increase your ROI on your content strategy, then developing a remarkable and unique headline is extremely important for your brand. There is no point in creating amazing content if you don't attract the right leads and convert them into potential consumers. Your content will only be able to reach a wider audience if it begins with a compelling headline.
How does a powerful content headline help?
If you are wondering how to generate a powerful headline that encapsulates the content body of your blog posts or articles, you will have to come up with some brainstorming sessions and consistently focus on creating appropriate and catchy headlines. Marketers and market experts have come up with a lot of ideas and changes that can help you do so. From creative to technological assistance, there are so many ways in which you can garner help today. For instance, as per a recent survey having a colon or hyphen in the headline could increase your click-through rates by 9%. Isn't this great? A little information can really put you on the right track.
Great headlines have come to rule content marketing because of their multi-purpose ability to double as email subject lines and grab instant attention on social media. Brands like Buzz Fed and Up worthy have been in the buzz for so long for the superb headlines that helped them generate millions of potential leads. Data scientists, market experts and content teams have sworn on the potential of a powerful headline. It's time that you do so!
Read on to learn some secrets of writing compelling headlines to captivate the attention of your audiences.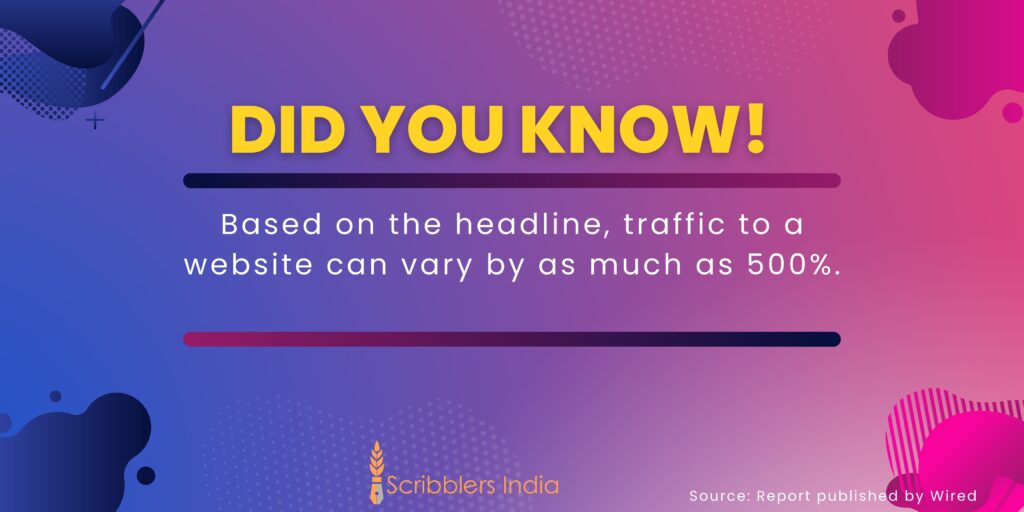 Tips to writing a compelling headline
Some of the tried and tested ways and little tips that will act as a guide rulebook for you and can help you ace the headline game are listed down below:
Use numbers and specific data
Do you know that the mind is much more receptive to numbers than a bunch of letters stringed together. The numbers act as brain candy for your mind as they are easier to grab attention!
Marketing strategist, Debra Jason, has confirmed that odd-even numbers have had a more authentic effect than even numbers on the eyes. Incorporating numbers and specific data in your headlines can improve the chances of increasing your click-through rates.
Experts have stated that including an odd number in your headline can increase your click-through rates by 20%. If you are writing steps or a guide on some topic, then it is advisable that you put up a number in the headline. The digital landscape is all about precise timing, including a small number like 7 or 5 can give the mind an immediate attention grab, and the number is also naturally easier to digest for the mind.
Use the right keywords
Whatever it is that you are trying to sell or discuss, keep in mind that it is included in the headline. The main keyword of the content has to be a part of the headline, and it will not only attract the right leads but also expand your blog post's reach and widen its scope in the niche market.
Include words and adjectives that generate and titillate the curiosity of the users so that they come back wanting more. Don't put extremely difficult, heavy or irrelevant words in your headline as the user might lose interest.
The headline should incorporate the idea that you sell, should be written in an easy and simple language, and with catchy adjectives so that it instantly grabs the attention of the users.
Keyword research is the first step that you need to undertake before you start working on a headline. These keywords play an extremely important role in Search Engine Optimization (SEO), therefore looking for the right keywords that generate the maximum web traffic will be really helpful for your brand.
Find what works for you
Generating the right headline is not a task that you master in one day. You will have to consistently try and analyze what works for your brand and niche market.
Getting the right headline is a process that you will ace only with consistent trials. Sit with your team and come up with some brainstorming sessions. The more ideas you get, the easier it becomes to choose from the options.
By creating a few options for a piece of content, you can really understand what works for your brand.
Identify the factors that are making your audience click the headlines and boost your conversion rates.
Each brand's audience is different, you should cater to them according to their likes, dislikes and interests. The audience is the king when it comes to content marketing, so do what makes your brand loved.
Take the audience poll
Whenever you wish to post a headline for a piece of content, make sure that you invest in testing ways such as A/B testing, which is also known as split testing.
Don't stick to that one headline that looks great. Always gear up more and more options so that you have some of the best ideas to choose from.
Employ a scientific approach to optimize the traffic for your site. Using this standard testing method, you can easily send the chosen options for your headline to your audience divided into two different segments.
Choose the headline that your audience likes and gets the maximum number of votes. Then go for it.
Competitive research
It is never a good idea to just jump into the digital market without doing proper competitive research.
Do in-depth research. Each day new and compelling brands are joining the digital market, and it is extremely crucial that you do your end of the research before presenting your content. It will give you an idea of how things work, look for the targeted keywords and find what the number 1 rankings for that are.
Do your analysis. You can analyze how your competitors have written, what are the words that they generally include, what is the style, so that you get a fair idea about what is usually liked and appreciated by the niche audience.
Include the right rationale
Incorporating an easy to understand the rationale in your headline can work wonders for you.
Read content from other writers. If you scroll through the current blog posts, you will realize that content writers often opt for words such as tips, ways, secrets, ways, ideas or principles.
Understand the rationale. These basic rationales, although seem common but are words that are easy to understand, concise and convey the idea of your content. They will help in attracting potential leads and customers and also keep your headline short and crisp.
Tools for headline optimization
Plagiarism is a strict no but opting for a little technological assistance is a great way to create catchy headlines.
Invest in tools. You can invest in some of these tools, such as The Readability Test tool, Cliché finder, Hubspot Blog Ideas Generator, and Hemingway Editor app.
Monitor and analyze. These tools are specifically designed to give ideas for your headlines, find repeated clichés, and help in providing relevant analysis by comparing the other businesses and platforms in the marketplace.
Develop better understanding. Along with correcting the basic grammar of your headline, these tools can also help you in understanding what works the best for generating web traffic.
Promise to provide an answer
Your headline should be an answer to a question so that the readers are excited to find the answers.
Attract the audience. Include the whys, how what and when so that the audience is attracted to find the answer to the question posed.
Create curiosity. Incorporating these terms will motivate the readers to quickly click the headline and boost your conversion rates. The human mind is engineered to find answers to curious questions.
Build brand image. You can attract larger leads if you include these terms, and it will also help you build a brand image as you will stand out as a company that solves and provides solutions.
Avoid click-baiting
Don't promise what you cannot deliver. A lot of brands attempt to lure in the leads by creating a headline that does not do justice to the content provided.
Be consistent. The first step to create a positive brand image is to be consistent and honest with your consumers. You might be able to attract a lot of leads if you create a catchy headline, but if it does not resonate with the content that you provide below.
Be transparent. In the long run, it will give you poor returns because your audience will start distrusting you, and eventually, you will lose customers. Creating a powerful headline means that you fulfil the promise that you make and deliver the right content.
Be patient. Begin slowly and just trust the process. Don't opt for quick and easy hacks.
Don't make it fancy
Yes, a great headline should be a call for attention, but that does not mean that you incorporate fancy and extravagant words in your headline.
Easy to understand. The digital user works under constant time pressure and flips through multiple pages within seconds. So it is important that put up something that helps them understand the topic within seconds.
Keep it simple. If you include really heavy words just to make it look good and fancy, then you will lose a lot of customers because something that doesn't come too easy to them might lose interest in it.
State the obvious. There are so many options available to them that they have the option to flip through your page if it doesn't come easy to them. Therefore, the experts recommend that you include simple and easy to understand words that state the obvious.
Evaluate and re-work
It is extremely important and beneficial that you evaluate the conversion rates, the leads and the traffic each of your headline generates.
Revisit the headlines. If you don't keep score, then you will never know what works for you and what doesn't. Revisit the headlines that have generated larger web traffic because it is only then you will understand what it that your audience liked about the previous headlines is.
Stick to a pattern. Once you have identified a pattern, stick to it and constantly add new and fresh changes to it. Create the content on a regular basis to see the maximum results.
Be open to rework. A powerful headline is something that calls for attention, creates room for urgency and yet leave some air for mystery. It is a combination of the right words, ideas and proper research of your market values and needs.
Final Take
Creating a compelling headline is important to build trust in the digital community of your brand. Experts have recommended that it is always a good idea to not tell but help and show your potential leads what is in store for them. If you aim at providing constant solutions to your audiences, then it is likely that they will be willing to come back for more.
The headline is the first thing that your leads will see when they visit your page for content, and your click-through rates will be massively dependent on the way your headline looks. It's almost striking how one line can have such a major impact on your entire content strategy but so is true!
It is the selling idea of your brand, so make sure that you work on it in a creative and strategic manner. Now that you know how important it is for your brand, a few brainstorming sessions on creating a powerful headline will look all the more worthwhile, right?
At Scribblers India, we help our clients with incredible content marketing strategies that fit well within given budgets. If you are looking for some content magic, contact us today!