Are you struggling to make your online presence shine? Well, let me tell you about the game-changer you need: a killer content strategy. In the world of digital marketing, content is king. Having a well-thought-out plan in place can be a total game-changer for your business.
So, what exactly is a content strategy? It's a roadmap that guides your content marketing efforts, helping you create and distribute valuable and relevant content to your target audience. By developing a solid content strategy, you ensure that your content is purposeful, aligned with your business goals, and tailored to engage your audience. In fact, 78% of marketers with an effective content marketing strategy document the details to focus their efforts.
Think about it: without a content strategy, you might be wasting your time and resources creating content that doesn't resonate with your audience or drive any meaningful results. With a strategy in hand, you can focus on creating high-quality content that speaks directly to your audience's needs and desires.
Ready to take your content marketing to the next level? It's time to invest in a well-defined content strategy that will set you apart from the competition and captivate your audience. Let's get started on your journey to content greatness!
"Quality, relevant content can't be spotted by an algorithm. You can't subscribe to it. You need people – actual human beings – to create or curate it."

― Kristina Halvorson
5 Elements of an Impressive Digital Marketing Content Strategy
Remember, it's not just about writing content; it's about crafting a strategic plan that attracts, engages, and converts your audience. So, get ready to elevate your SaaS content writing with a well-defined content development strategy that brings your brand to new heights!
Let's dive into the five key elements that make up an impressive digital marketing content strategy.
Clear Goals
Start by defining your objectives. What do you want to achieve with your content marketing efforts? Do you aim to increase brand awareness, drive website traffic, or generate leads? Establishing clear goals will give your strategy some direction and help you measure success along the way.
Audience Research
Understanding your target audience is crucial. Conduct thorough research to identify their demographics, interests, pain points, and preferences. This insight will enable you to create content that resonates with your audience and delivers value.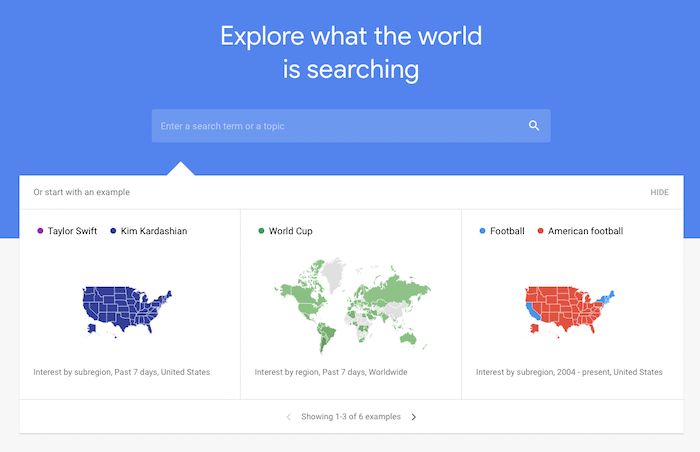 Content Creation
This element is the heart and soul of your strategy. Develop a content creation plan that aligns with your goals and resonates with your audience. Whether it's blog posts, videos, infographics, or social media content, focus on producing high-quality, informative, and engaging material that showcases your expertise. You can opt for the best content writing agency in India to help you out.
Distribution Channels
Determine the platforms and channels where your audience hangs out. Is it social media, email newsletters, industry forums, or all of the above? Tailor your content to suit each channel's requirements and leverage their reach to maximize exposure.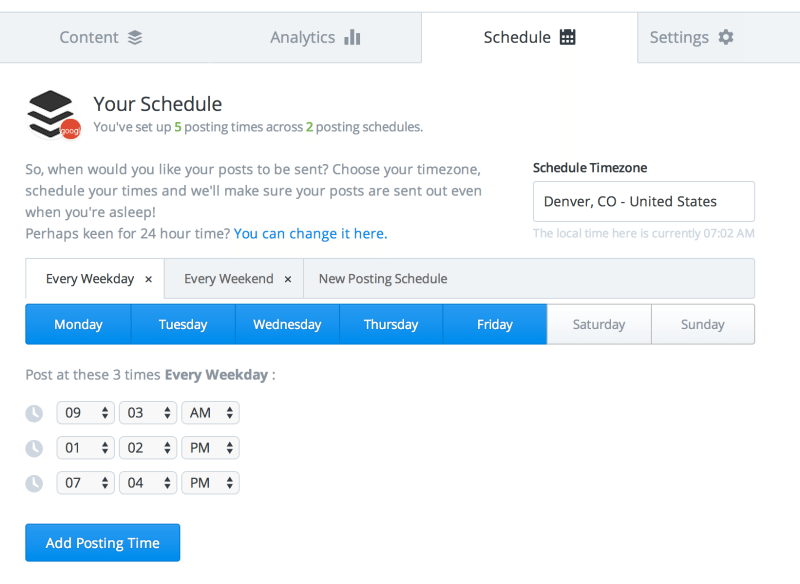 Performance Measurement
Don't forget to track and analyse the performance of your content. Use tools like Google Analytics, social media analytics, or email marketing metrics to evaluate engagement, conversions, and overall effectiveness. Adjust your strategy based on these insights to continuously improve your results.
7 Must Have Content Types for Your Content Strategy
An effective content strategy encompasses a variety of content types to engage your audience across various platforms. Two of the most popular content types that most marketers use are short articles (83%) and videos (61%). Let's explore seven content types that you should include in your content strategy. These diverse formats will help you capture the attention of your audience and keep them coming back for more!
Blog Posts
Ah, the classic blog post. This versatile format allows you to dive deep into topics, showcase your expertise, and provide valuable insights to your readers. Whether it's industry news, how-to guides, or thought leadership pieces, blog posts are a must-have in your content arsenal.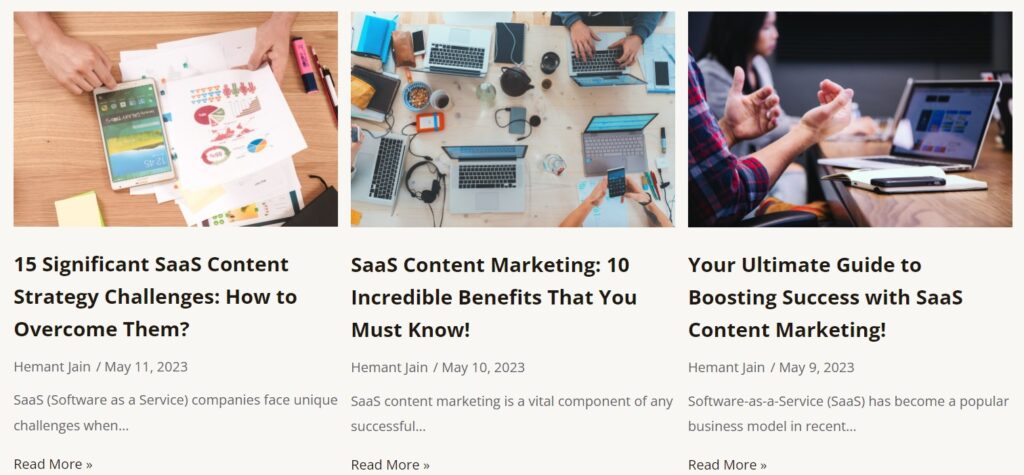 Videos
In today's digital landscape, videos are all the rage. They offer a dynamic and engaging way to communicate with your audience. From explainer videos and product demos to interviews and vlogs, leverage the power of video to deliver compelling messages and create a lasting impact. In fact, over 72% of companies plan to increase their investment in video marketing.
Infographics
Sometimes, visuals speak louder than words. Infographics present information in a visually appealing and easily digestible format. They are perfect for simplifying complex concepts, presenting data, or sharing step-by-step processes. Almost 41% of marketers agreed that original infographics have helped achieve their marketing goals.
Case Studies
Showcasing real-life success stories is a great way to build credibility and demonstrate the value of your products or services. Case studies provide concrete evidence of how your offerings have helped customers overcome challenges and achieve their goals.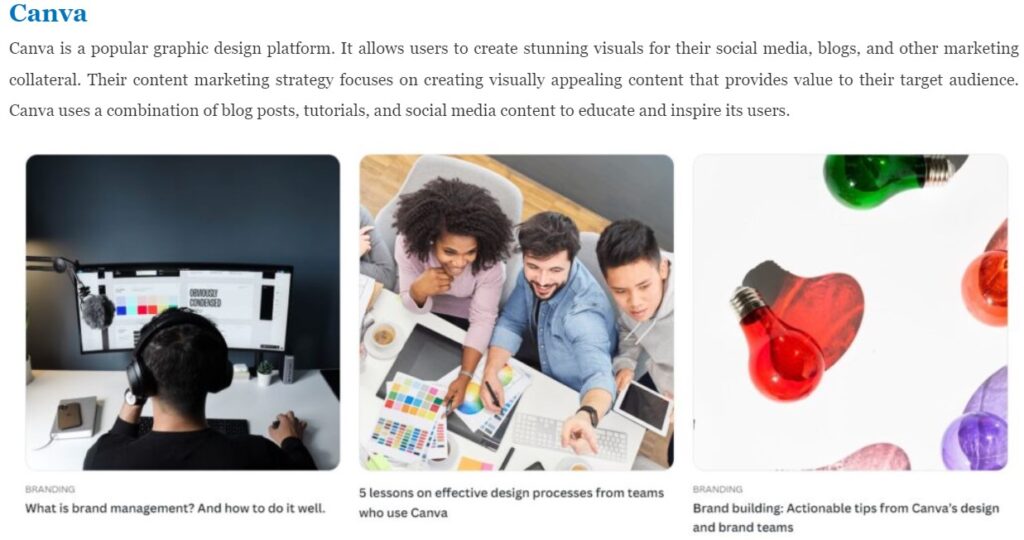 Ebooks/Guides
Position yourself as an authority in your industry by creating comprehensive eBooks or guides. These resources offer in-depth knowledge and actionable tips that your audience can use to solve their problems. eBooks are also valuable lead magnets for capturing email addresses and nurturing prospects.
Social Media Content
Social media is an essential part of any content strategy. Create engaging posts, share valuable insights, and spark conversations with your audience. Leverage the power of visual content, such as images and videos, to make your social media presence stand out.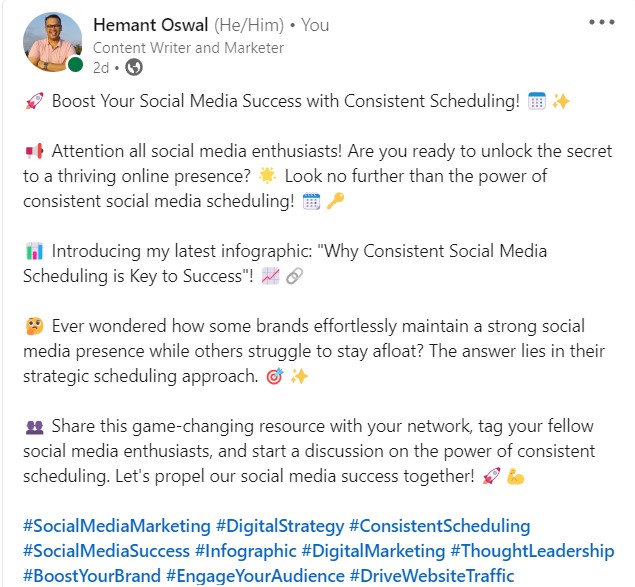 Webinars/Podcasts
Engage your audience in real-time through webinars or dive into the audio realm with podcasts. These formats allow you to connect with your audience, host interviews, share expertise, and provide valuable educational content.
"Content repurposing is about getting the maximum return from every single piece of content you create. Content repurposing can take many forms, and there are lots of different and creative ways that you can repurpose your content, but every content creator must repurpose."

― Amy Woods
8 Steps to Create a Fantastic Content Strategy Framework
Did you know that content marketing can help you generate over 3x more leads at a 62% lower cost!
Ready to create a fantastic SaaS content strategy framework? Buckle up, because I've got eight steps that will guide you through the process. Let's dive in!
1.    Define Your Objectives
Start by clearly outlining your content marketing goals. Do you want to boost brand awareness, drive conversions, or establish thought leadership? Knowing your objectives will shape your entire strategy.
2.    Know Your Audience
To create content that resonates, you need to know who you're targeting. Conduct thorough audience research to understand their demographics, preferences, pain points, and online behaviours. This insight will help you tailor your content to their needs.
3.    Identify Key Messages
What core messages do you want to convey through your content? Define your brand's unique value proposition and key talking points. Ensure that your content consistently reflects and reinforces these messages.
4.    Choose Content Channels
Determine the channels through which you'll distribute your content. Will it be your website, social media platforms, email newsletters, or a combination? Select channels that align with your audience's preferences and provide maximum reach.
5.    Develop a Content Calendar
Create a content calendar to organize your content creation and publication schedule. Plan ahead to ensure a consistent flow of content that aligns with your objectives and caters to different stages of the buyer's journey.
6.    Content Creation
It's time to let your creative juices flow! Produce high-quality, engaging content that aligns with your audience's interests and solves their problems. Whether it's blog posts, videos, or infographics, focus on providing value and building trust. Remember that most customers won't spend over 5-minutes reviewing most content formats. So, focus on creating quality content that engages the audience.
7.    Implement SEO
Boost your content's visibility by incorporating search engine optimization (SEO) techniques. Conduct keyword research, optimize your content for relevant keywords, and ensure your website is user-friendly and easily accessible.
8.    Measure and Refine
Don't forget to measure the performance of your content. Use analytics tools to track engagement, conversions, and other key metrics. Analyse the data to identify what's working and what needs improvement. Adjust your strategy accordingly to optimize results.
10 Tips for Optimizing Your Content Strategy Inspired From Real-Life Examples
Remember, successful content marketing is a continuous process of experimentation, adaptation, and improvement. So, get creative, stay authentic, and provide value to your audience.
I'm here with some real-life inspired tips to help you optimize your content strategy. These tips are tried and tested by successful brands, so get ready to take your content game to new heights!
Learn About Your Audience
Understand who your audience is and what they're looking for. Take a page from Spotify's playbook—they analyze user data to curate personalized playlists. Tailor your content to meet your audience's needs and interests.
Be Authentic
Authenticity is key in content marketing. Take inspiration from Airbnb's "Stories from the Airbnb Community" campaign. They showcase real stories from hosts and guests, creating a sense of trust and connection. Share genuine stories and experiences to engage your audience.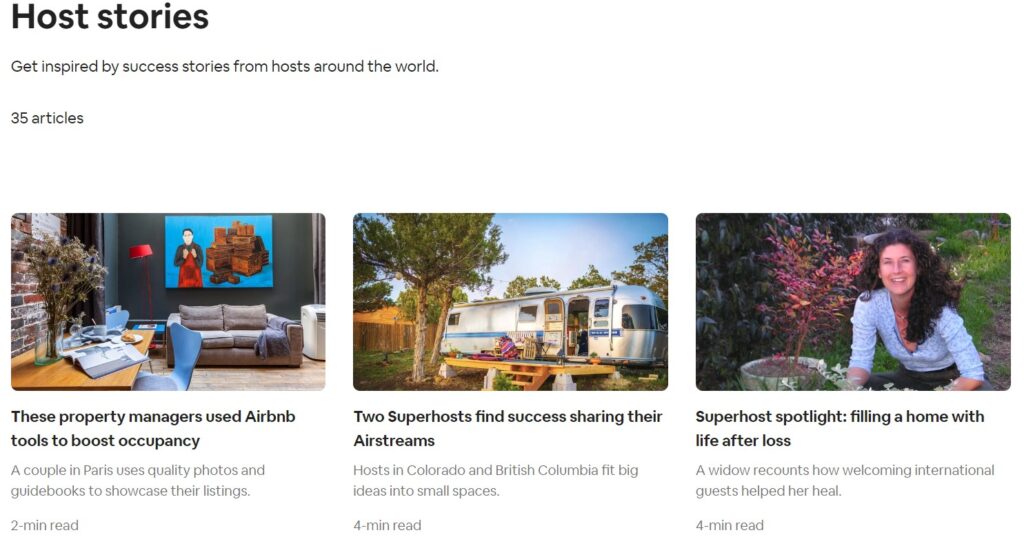 Utilize User-Generated Content (UGC)
Tap into the power of your audience by incorporating UGC. GoPro is a prime example—they encourage users to share their adventures using their cameras, creating a community-driven content strategy. UGC adds credibility and encourages engagement.
Embrace Visual Content
Visuals are eye-catching and shareable. Look to Red Bull for inspiration—they use stunning visuals and videos to tell compelling stories about extreme sports. Invest in high-quality visuals to captivate your audience and make your content memorable.
SEO Optimization
Ensure your content is discoverable by optimizing it for search engines. HubSpot does this brilliantly—they create comprehensive guides that rank high in search results. Use relevant keywords, optimize meta tags, and create valuable content to boost your SEO efforts. Over 66% of content marketers undertook regular content analysis to optimize their strategy.
Determine Your Value Proposition
The content you create should provide value to your audience. Take a cue from Neil Patel—he consistently delivers in-depth, actionable insights through his blog and videos. Provide practical tips, actionable advice, and valuable information to establish yourself as a trusted authority.
Experiment with Different Formats
Don't limit yourself to just one content format. Take inspiration from The New York Times—they have podcasts, newsletters, and interactive features. Experiment with formats like webinars, podcasts, and interactive content to keep your audience engaged. Remember, interactive content generates over 52% more engagement than static content.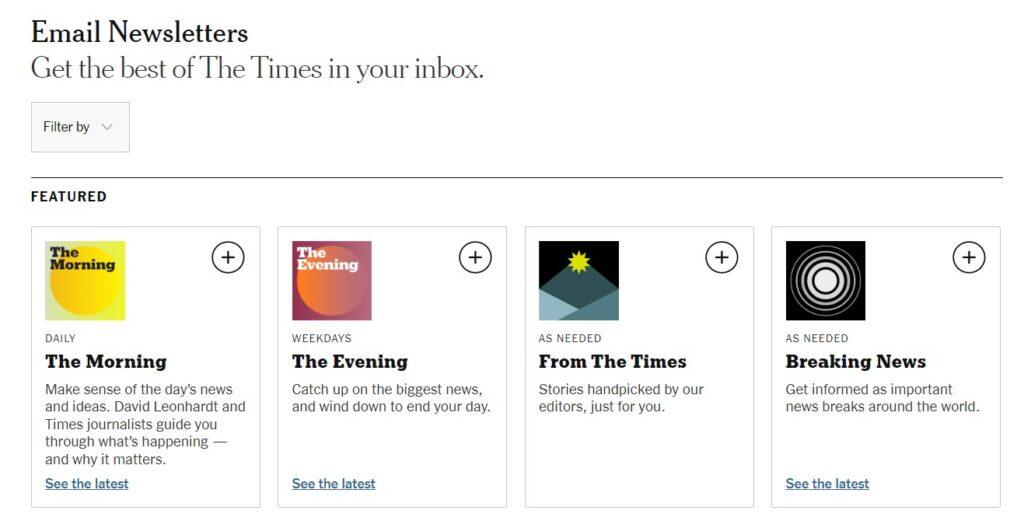 Repurpose Content
Make the most out of your content by repurposing it across different channels and formats. Buffer does this effectively—they turn blog posts into social media graphics, videos, and podcasts. Repurposing saves time and allows you to reach a wider audience.
Focus on Audience Engagement
Foster a sense of community by engaging with your audience. LEGO does this exceptionally well—they actively respond to comments and encourage fans to share their creations. Respond to comments, ask questions, and create opportunities for your audience to engage with you.
Analyze and Iterate
Constantly analyze the performance of your content and make improvements. Netflix is a prime example—they analyze user data to suggest personalized content. Use analytics tools to track metrics, identify trends, and make data-driven decisions to refine your strategy. Over 83% of marketers agree that quality is better in terms of quantity when it comes to content marketing.
"The key to creating awareness content is knowing and understanding your current clients. The more insight you have on them and their habits, the more likely you are to be able to create the right content, for the right people, at the right time."

― Patrick McFadden
Crucial Aspects of Content Strategy Optimization
By regularly optimizing your content strategy, you can maintain a competitive edge, deliver value to your audience, and achieve your business goals in the dynamic world of digital marketing.
Here are some key points on crucial aspects of content strategy optimization:
Audience Relevance: Content strategy optimization ensures that your content remains relevant to your target audience. By regularly evaluating their needs, preferences, and behaviour, you can tailor your content to engage and resonate with them.
Keeping Up with Trends: The digital marketing landscape is constantly evolving, with new platforms, formats, and trends emerging. Optimizing your SaaS content strategy allows you to leverage these trends and stay ahead of the curve, reaching your audience through their preferred channels.
Adapting to Business Changes: Your business may undergo changes over time, such as new product offerings, shifts in target audience, or market conditions. By updating your content marketing strategy, you can align it with these changes, ensuring that your content effectively supports your business objectives.
Monitoring Performance: Regularly analysing your content's performance and key metrics is crucial. If you notice a decline in engagement, conversions, or audience response, it may be a sign that your strategy needs adjustment. Monitoring performance allows you to optimize your content for better results. If you do not have enough resources in-house, then enlist the services of an experienced agency offering content marketing services in India.
Frequency of Updates: It's recommended to review and update your content marketing strategy at least once a year. However, the frequency may vary depending on factors such as business goals, industry dynamics, and audience behaviour. More than 65% of enterprises with a successful content marketing strategy conduct content audits twice every year. Major changes or shifts in your business may require more frequent updates to keep your strategy aligned.
Conclusion
Content strategy optimization is crucial for staying relevant, engaging your audience, and achieving your business goals in the ever-changing digital landscape. By regularly updating and refining your content marketing strategy, you can keep up with emerging trends, adapt to business changes, and deliver valuable content to your target audience.
If you're looking for expert guidance and support in optimizing your content strategy, our SaaS content marketing agency in Delhi is here to help. Contact us today to elevate your content game and drive meaningful results for your business. Don't miss out on the opportunity to maximize the potential of your content strategy with our SaaS content marketing agency in India!
Frequently Asked Questions
Q1. What is content strategy?
A1. Content strategy is the process of planning, creating, distributing, and managing content to achieve specific business goals, engage the target audience, and provide value through relevant and consistent messaging.
Q2. How does content strategy differ from content marketing?
A2. Content strategy focuses on the overall planning and management of content, while content marketing specifically aims to use content to attract, engage, and convert customers, often for marketing purposes.
Q3. Why is content strategy important for businesses?
A3. Content strategy is important because it helps businesses effectively communicate their brand message, connect with their audience, build trust, establish authority, drive engagement, and ultimately achieve their marketing and business objectives.
Q4. What should I look for in a SaaS content marketing agency in India?
A4. When choosing a SaaS content marketing agency in Delhi and other cities, consider their expertise in the SaaS industry, their track record of success, their understanding of your target audience and goals, their content creation and distribution strategies, and their ability to measure and optimize campaign performance.